Yale Centre for British Art, 2016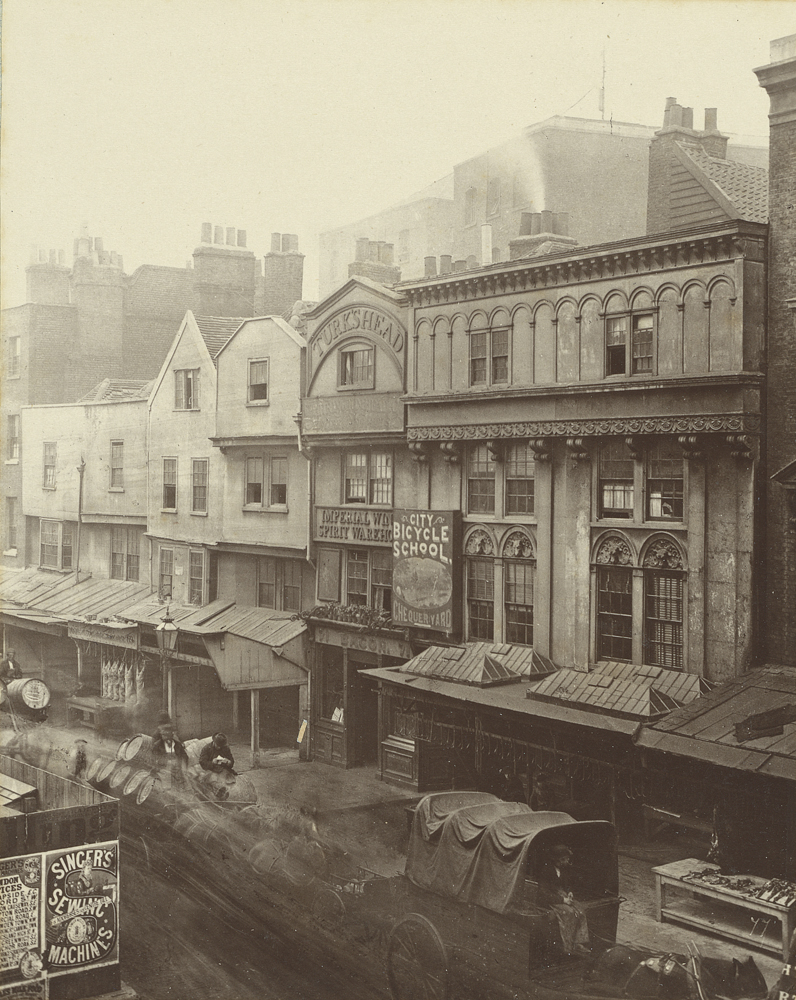 From the gallery: This exhibition offered a glimpse of the lost architecture of preindustrial London, as captured in a series of carbon photoprints commissioned between 1875 and 1886 by the short-lived Society for Photographing the Relics of Old London.
Intended as a permanent pictorial archive of buildings under threat of demolition, the photographs document ramshackle coaching inns, disintegrating as the growing railway system eclipsed their vital role in Britain's transportation networks; the Inns of Court, imposing Gothic sites of legal tradition; abandoned sites for early modern leisure and entertainment; gloomy medieval lanes, churches and shop fronts frequented by anonymous Londoners; soot-covered monuments and gateways; and the city's last remaining wooden buildings, survivors of the Great Fire of 1666.
Relics of Old London explored both this antiquarian impulse to preserve remnants of the past in the face of rapid urban transformation and the role of photography in realizing new forms of public history and visual record. Focusing on the city's built heritage rather than its shifting social fabric, the exhibition presented an idiosyncratic view of London's history through its endangered architectural past.
For a selection of the photographs — click here.
This exhibition was held May 11 — August 14, 2016
——————————-
The Yale Center for British Art houses the largest collection of British art outside the United Kingdom. Presented to the university by Paul Mellon (Yale College, Class of 1929), the collection reflects the development of British art and culture from the Elizabethan period onward.
Yale Center for British Art, New Haven, CT, USA — click here