Australian Photo-History Publications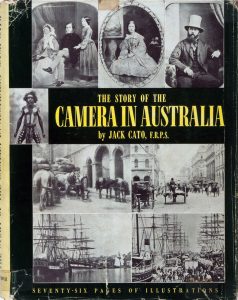 I have unearthed an essay from 1976 which was a commentary about photo-history books available at the time.
This was published in the magazine Australian Photography – a contemporary view, edited by Laurence Le Guay.
That essay we have now uploaded to our photo-web site as an online version of the original
Click on the link to see that online version – 'Pictures in Print'.
More recently I was looking through my shelf of Australian photo-histories that includes Jack Cato's 1955 'The Story of the Camera in Australia' the first book length history of photography in Australia.
In 1986 I wrote an article for Photofile about this book and how it came about.
The article was titled A Story of the Story and was based on the correspondence between Jack Cato and Keast Burke. This we had previously uploaded to our web site – click here.
Magazines both for the amateur and professional market whether corporate, commercial publishers or arts grants, have all played a role in promoting awareness of photographic heritage, past and present-day individual photographers or debate on the medium's role in visual culture.
Monographs on photographers, museum and academic studies were rarities before the 1980s. A rich array of online resources and publications now exist.
In parallel to the photo-history publications, photobooks as a genre of contemporary practice have emerged as a significant genre as have studies of exhibitions and picture magazines in recent decades.
The role of Australian photo-history books could do with some more research. Therefore, I am now considering building on my 1976 original essay and investigating the feasibility of putting together a timeline about the evolution of Australian photohistory through books and magazines.
I see the first question will be which publications were the first to present retrospective accounts of early photographers and the role of the medium.
Work to be done – a new challenge. Watch this space.