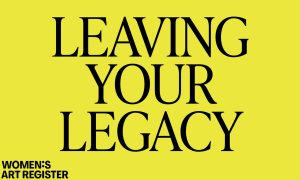 Since starting this blog on Parting With Your Art, I have had news of difficulties faced by legatees in finding homes for art photographer's archives.
Libraries are carrying the highest load of action, bless them, but sometimes lateral thinking produces specialist niches that welcome material. I recently donated a lot of small catalogues and monographs on women photographers plus a file of ephemera on the women's movement since the 1970s to the Women:s Art Register.
The organisation was founded in 1975 and still going strong and is located in Richmond Library 415 Church Street, Richmond VIC.
I was very pleased to think women photographers reference material was enriched by my donation. Most of my usual recipient art museum libraries already held many of the catalogues and Lifeline Book Fair would have been the only remaining option.
The W.A.R website is worth taking time to read and subscribe.
On International Women's Day 12 March 2022 sixteen editors assembled for the annual Art + Feminism Wikipedia Edit-a-thon hosted by the Richmond branch of Yarra Libraries, contributed 78.8K words including 40 new articles 439 edited articles, 874 total edits and 234 additional references. (Drum roll please)
There is a role for anyone to assist or donate — Click here.
There is a workshop page with helpful information on archiving your practice.
Very relevant to our topics is the newly published Leaving Your Legacy: A Guide for Australian Artists that has grown out of a seminar of the same title held in June 2022.
Leaving Your Legacy: comes in print and digital editions
It is very thorough, practical and readable with helpful checklists for artists and/or their executors. References and links to other organisations are at the end. There are strategies for how to keep your work in the public eye.
Many issues I have already raised are covered in greater detail but some points are:
The emotional toll, costs and work involved in being an executor as well as practical matters such as ongoing storage
The difference between assigning copyright (you no longer hold it) and licensing agreements
The right to assert or enforce your moral rights that are not transferable as such can be assigned to nominated person/s.
The document outlines the ideal level of cataloguing of art works in an estate including the benefit of using a Personal Property Security Register available through a government website. This is very helpful to prove ownership of works placed on consignment or loan especially if a commercial gallery goes into receivership.
In reality very few artists will stop making new work or be bothered to allocate time for cataloguing at the level recommended in the W.A.R. document. Few people accept responsibility even for the stuff accumulated over a lifetime.
Art estates are not always readily converted to cash and disbursement takes time and usually money. Executors and family are well advised to do what they can while the artist is alive and well.
Leaving Your Legacy: A Guide for Australian Artists is a very handy and comprehensive starting point and an organisation worth supporting.
————————————————– –
For more on Parting With Your Art — - click here
——————————————————–
here's a link back to my main blog page — click here