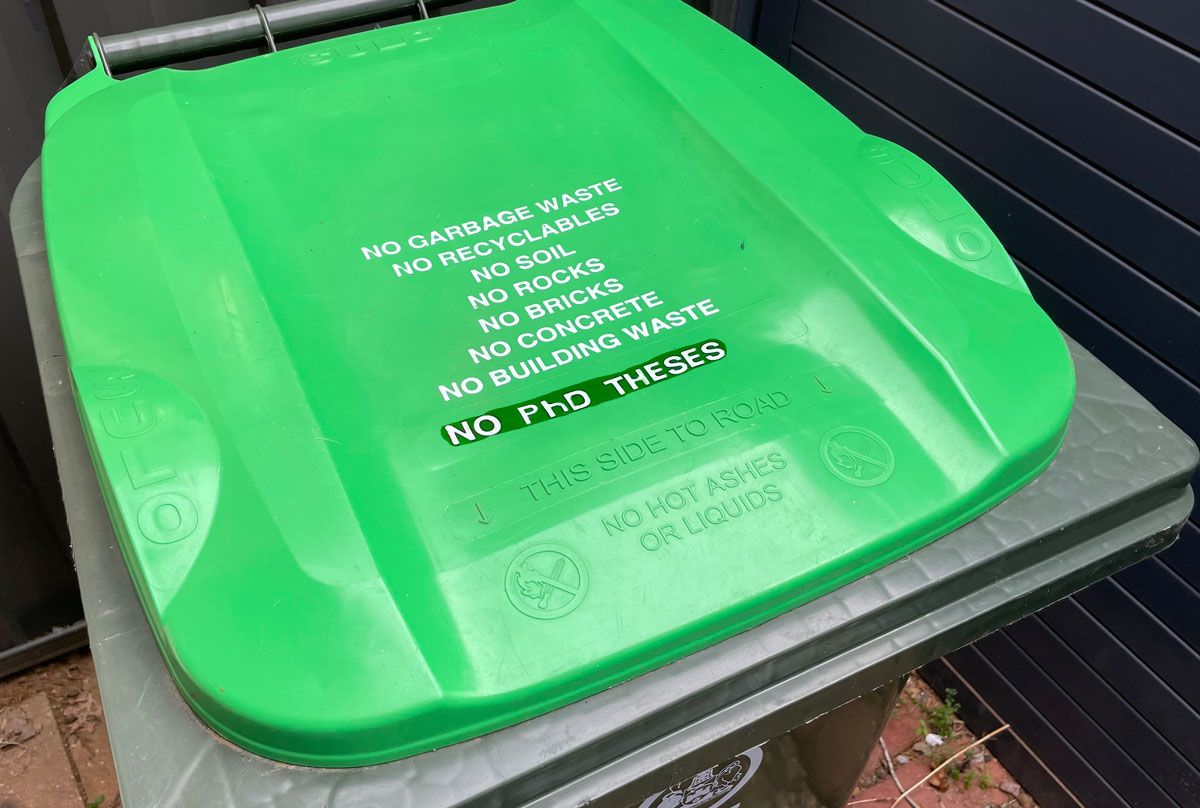 I have just read John Hewson's regular Saturday Paper article (28th Jan 2023). This one was about recycling. Hewson relates how in 2000 he and a consortium tried to get support from NSW Premier Bob Carr for a state of the art recycling plant.
All that they asked was to receive the waste for 25 years, not actual funding. The project was not supported, more landfill sites were opened.
What struck me most was the information Hewson referenced that Australia lags behind the best practise recycling levels reached by Sweden and Korea for glass, food and plastic recycling. Indeed we generate the most single use plastics in the world of which only about sixteen percent of which is recycled ( probably less now that RedCycle has collapsed).
Here's a link to that article — it may be only available to subscribers — but maybe you can read one article before the paywall hits.
—————————–
The article reminded me of my aim in starting Parting with your art ( and archives and library) was to share my experience in downsizing and re-homing our photographic art collection, a photographic art library and forty odd years of research files and ephemera.
I proposed that If you pay to acquire — pay to retire. This includes research files.
So a decade or so years and thousands of dollars later I have dispersed about four full height bookcases worth of titles to every state and territory gallery, various regional and special interest libraries, including several overseas archives in California and New Zealand as well as friends and associates . Recent recipients have been the Women's Art Register and the Melbourne Art Library.
Eight half and full height filing cabinets are now empty and despite best efforts plastic file sleeves, manila drop files and ring binders as well as outdated office supplies have had to go to landfill. Adverts on gumtree met with no interest. I don't think the manila drop file folders can go into the paper bin because of their metal hanging strip but maybe be if I cut the metal off???
First choice for me for books and archive material has been the Edmund and Joanna Capon, National Art Library at the Art Gallery of New South Wales — my first curatorial stamping ground. My then Director the late Edmund Capon allowed me to start curatorial work and was a great supporter as well as awesome and fun. I remain deeply grateful.
We recently visited the extended and renovated library and partner Paul has written a commentary on the wondrous new space (link at bottom of page).
Capon Librarian Steven Miller has been so supportive of the concept of what is an archive in what he has taken in progressively over many years from me and others. He has been a saviour for some imperilled material.
The Library is a joy to be in and the most inspiring experience I have had in a long time. The architectural design and the cultural values of an archive is are in perfect harmony. If one could be buried in the crypt I would reserve my plot.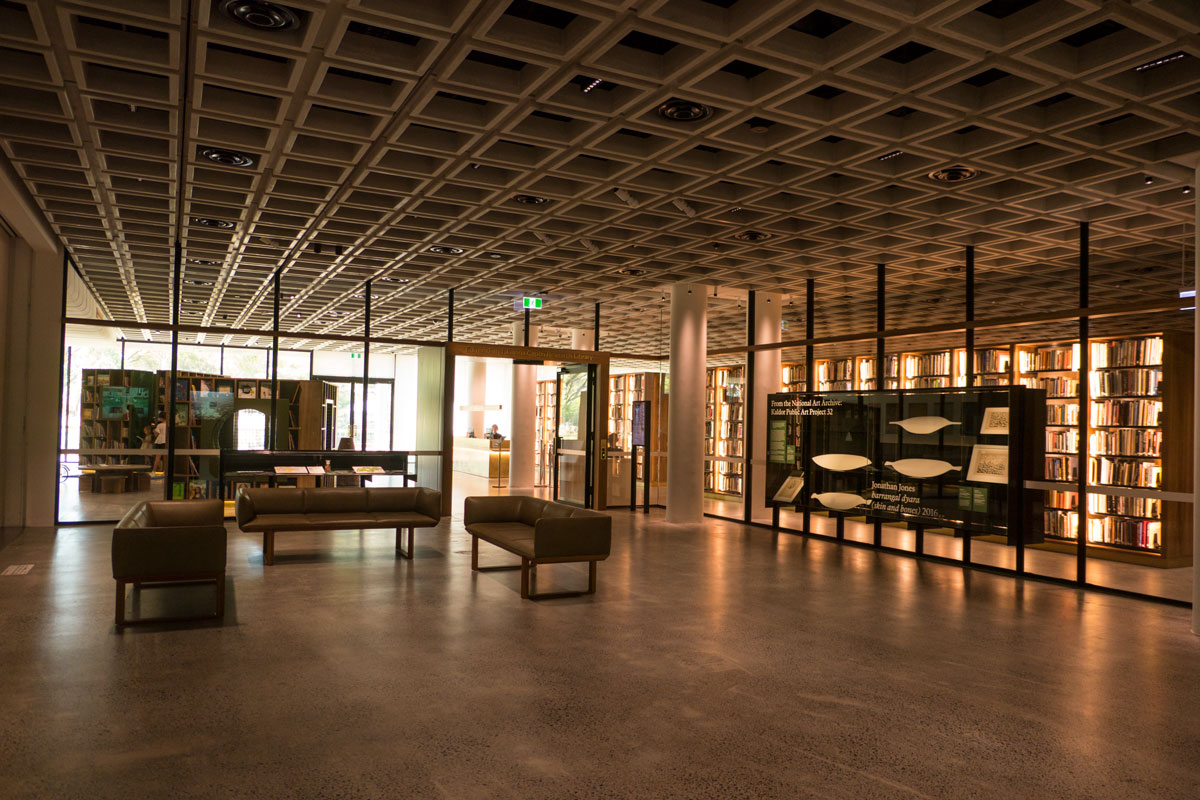 I have already written about the challenges of downsizing research files. A number of academics I know have had their whole archive acquired by libraries — especially if they wrote books on particular artists and held much direct correspondence and so forth.
I was happy to dispose of a lot of mine which were downloaded articles still available online – although that won't always be the case of course.
I have scanned a lot and have assembled tubs of drop files and slides that are to be transferred to the Art Gallery of New South Wales.
———————————-
A recycling option has recently been demonstrated by my old friends the remarkable collaborating duo of photo and photo book artists, curators, teachers and bloggers; Drs Victoria Cooper and Douglas Spowart.
Two years ago they bought a house in Benalla that came with a large bare lawn.
From March to December 2022 they transformed a patch into a bush garden. The first weed block layer was made up of the pages from their draft doctoral dissertations and four hundred or so sheets from journals and magazine clippings.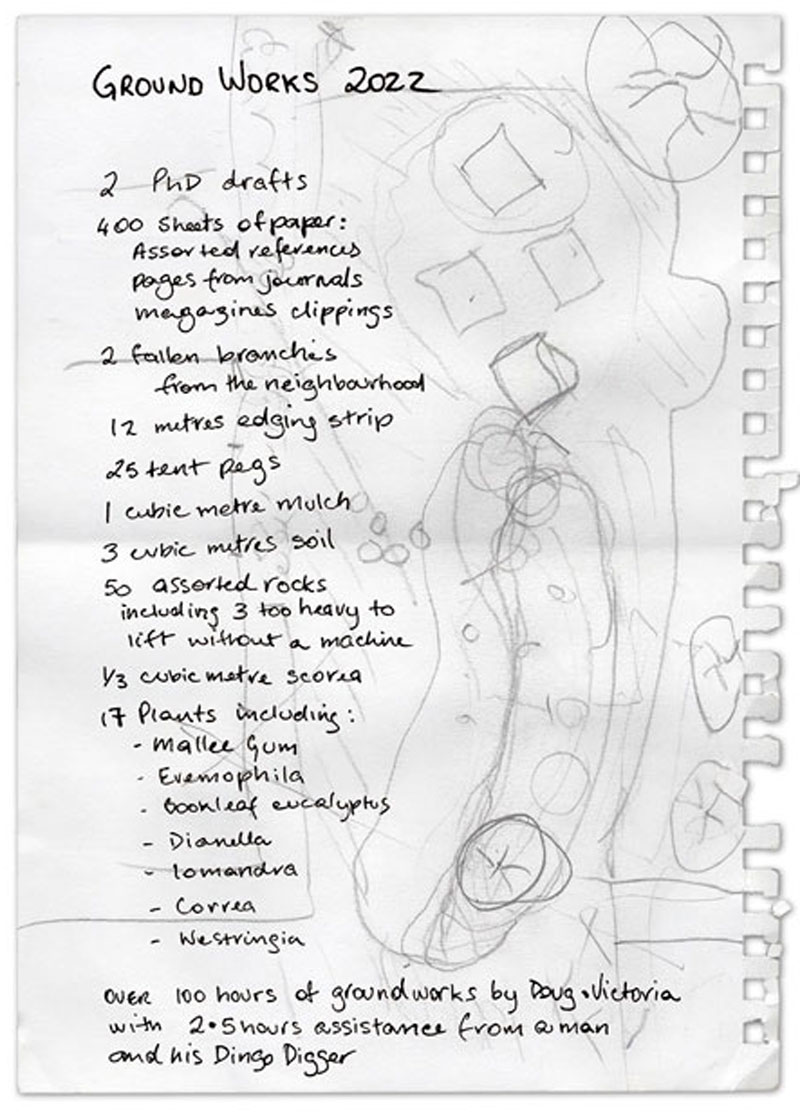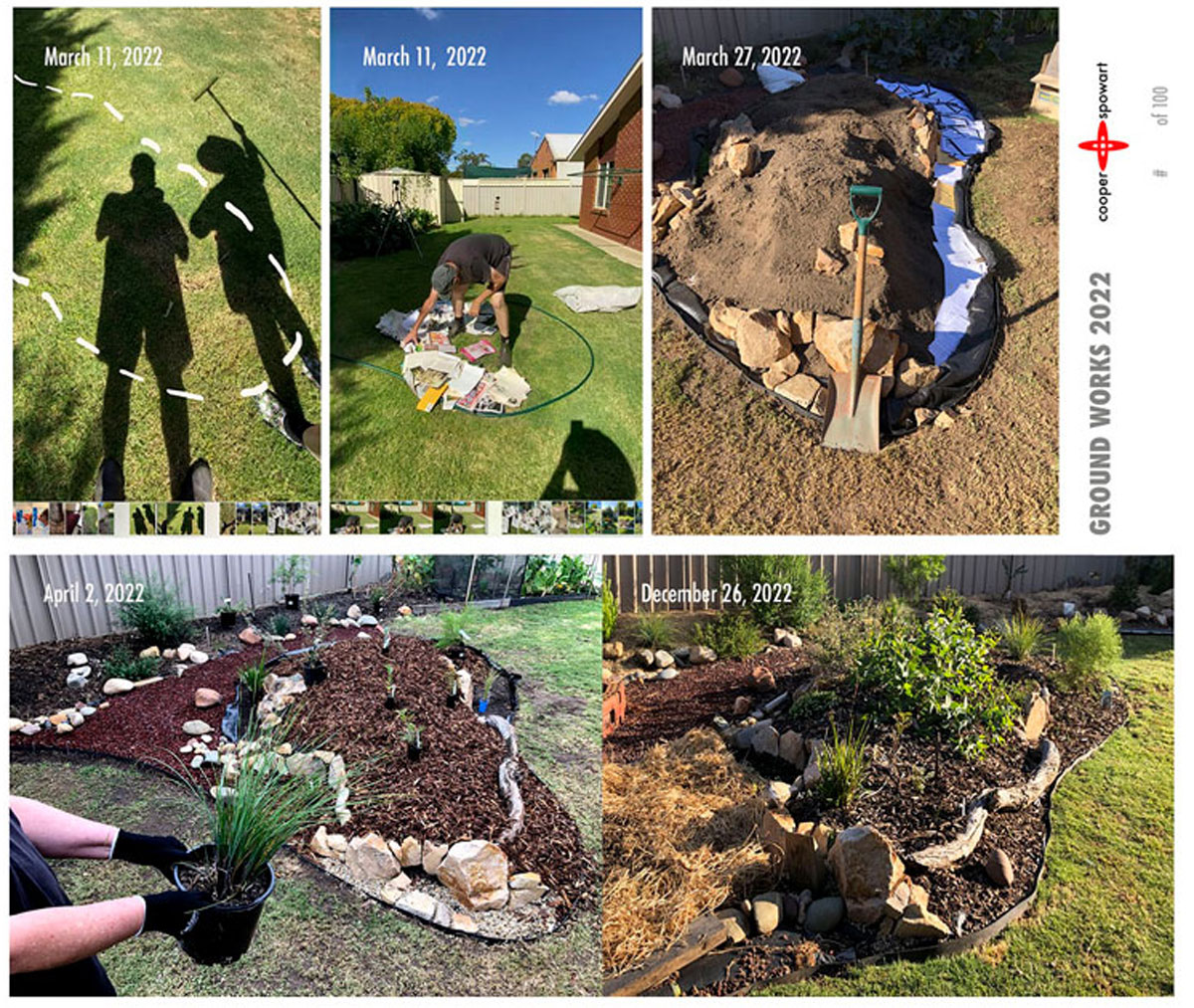 The ring binders covers were used in other ways and the rings put in the paper/metal/glass recycling bin. Plastic sleeves also became layers or went to RedCycle bins.
Victoria Cooper and Douglas Spowart are actively participating in the many activities staged by the Benalla Art Gallery. Here's a page about their association with the gallery and a selection of photos of events. click here: https://wotwedid.com/
So for those of you with papers that maybe don't quite quality for an archive and want to do some recycling closer to home to save transport emissions the Cooper-Spowart option may well be a model.
———–
Artist's archives are still a major interest and I will get back to those in a future post.
The article by Paul was in City News Canberra — he covered several topics in this one opinion piece.
————————————————– –
For more on Parting With Your Art — - click here
——————————————————–
here's a link back to my main blog page — click here