Parting with Your Art — Finale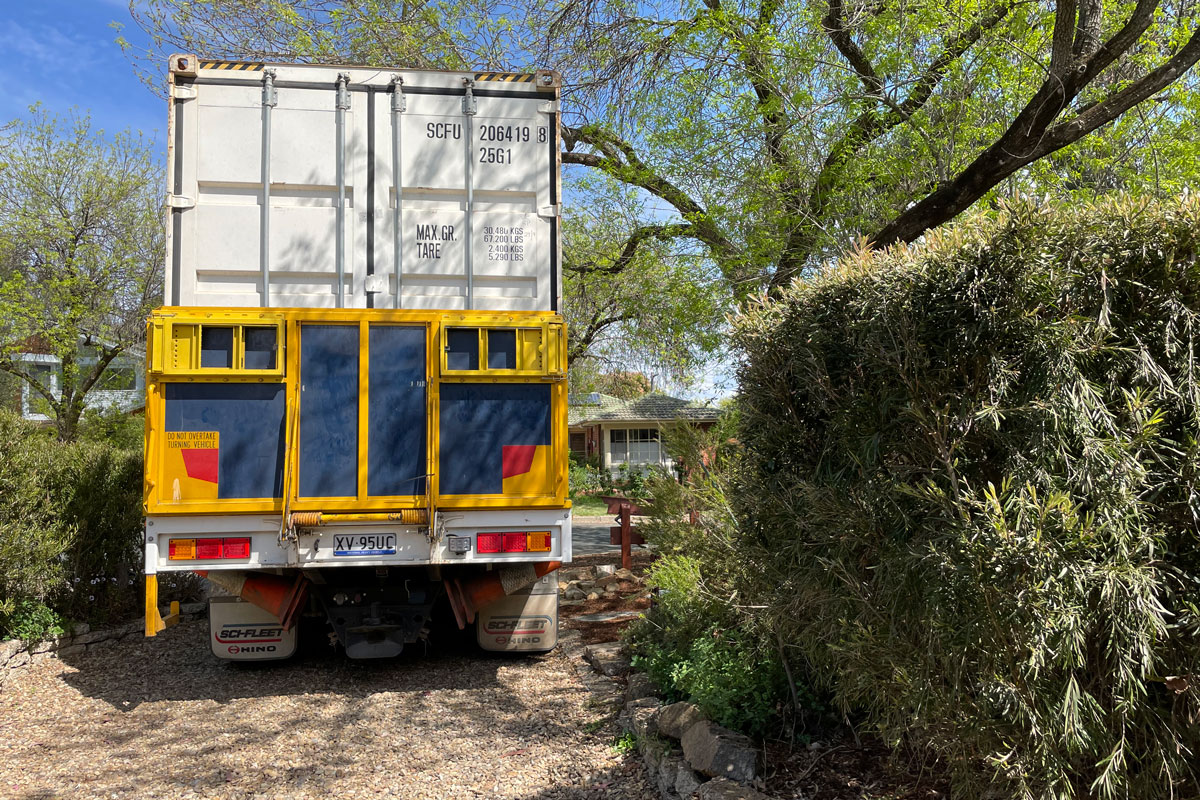 In my last blog post, I announced our decision to move to Melbourne and to do so as soon as possible. One message from talking to our selected real estate agents was that after the first week of December, most sales are off till February.
This meant to get the house on the market before December, it meant a self-inflicted terror of packing up and the inevitable disbursing and disposal of stuff. No pressure! The house is now on the market for auction 4th November. We made it somehow! We are yet to recover.
We made a valiant effort of sales, gifts and charity drops and ute loads to revolve and greenshed centres. But, given the self-inflicted time restraints, much went to landfill.
Desks, chairs, printers, cupboards and book cases as well as all the accessories such as files, slides, plastic sleeves, stationary and outdated technology from cables, plugs and cords had to go. We realised how so much stuff had been made redundant by changes in this digital era.
May I suggest an exercise for those with a study and libraries. Work out what is to happen to all you can see if you move or are moved on! Start now and maybe do a cull once a year and be realistic – do you really need to hang onto stuff you do not use regularly?
When I said at the outset of the parting with your art and archives blog that you have to pay for things you have acquired to find new homes, I underestimated the time such a process takes and that few can devote the months, maybe years, that are needed to achieve maximum recycling.
Moving interstate sharpens the mind when you realise you have to pay for every item you keep to be transported and possibly stored for a time between homes.
There were moments of real satisfaction as some loved objects as well as utilitarian ones found new and very appreciative homes. Many rather amusing scenarios followed as people tried to fit large items into tiny cars. One person I had to send away. He would not accept that those large things were not going to fit into the back of his Toyota Corolla
We sold off various art works and half our Barsony lamps and ceramics. We placed two photo collections under the Cultural Gifts Program and sold a few artworks.
We have kept more than we probably should as we may end up in an apartment but deferred that decision by packing them ourselves. The removalist service cost would have been prohibitive. One good suggestion came from the Storage King manager to use the cardboard from large flat pack boxes to make bespoke packing for large framed artworks.
There was furious packing of the last round of boxes of books to the Art Gallery of New South Wales Capon Library and other archives I have donated to regularly.
Then came the day of a very emotional decision. As I set to work on what I thought was the remaining library to take with me, I realised it would have to be halved – or more. This was one of those decisions I hoped I would not have to confront. The decision was made on the day.
That quick decision did not lessen the pain of dealing with the reality of having to say good-bye to so many of my friends. It is hard to explain logically. Most of the last decades they were not used but they were there on those shelves and that was a great comfort.
A last flurry of boxes to my favourite libraries involved a parting with some lovely books that I had to face I would not need for any future projects or research.
Over fifty boxes of books became twelve. It was painful. If you have ever tried dispatching books its tricky as piles of books are not the same size and spaces within the box have to be filled to keep the box solid. If you are transporting books make sure you have the boxes with double strength corrugated card walls that can stand being stacked on top of each other.
Many 'book boxes' sold at a certain hardware store are not strong enough.
You need lots of filling material. I had a supply from my old packing room of small stiff card boxes that can be wedged in or thin but stiff flat ones across the top or bottom of a box to act as a buffer. All my books are stacked in boxes lined with bubble wrap. I also finally mastered using one of those large hand-held tape dispensers.
Friends with a library to transport from Queensland to Victoria actually bought a supply of pizza boxes from a catering supplier and a bag of rubber offcuts from a Clark Rubber store. This combo worked a treat for quickly packing odd size books and then filling up any spaces left in the boxes.
More dispatches and gifts were made but also quantities of fine books went to Lifeline. I had to face that having not got around to reading those joyless sermonising theory books I probably wasn't ever going to get to them.
I felt better when the Lifeline volunteers were so pleased to see quality tomes rather than the usual mountains of airport novels and paperbacks. Those volunteers are amazing as absolutely piles of books come in everyday and they have to be sorted and I suspect many sent to pulp. Give them your best books. The expensive ones go to the special section of the annual fairs and it's a great cause.
It was hard to justify keeping books but we did work out a new way of enjoying some of them. Take a few books with great quality pictures and open them out on a shelf that you pass daily, turn a page every few days.
Some six weeks later we are now in alternate accommodation, removalist has been and a load of items and the art collection are in storage. We took a few art works to the rental apartment. It feels like liberation that we less encumbered with stuff much of which was invisible in cupboards because it might be needed one day.
Several historic photo collections remain to find homes but finding public archives to accept collections is getting harder. There has been a shift in policy across libraries and art museums that too much lower value material has been accepted.
The message of my blog has been if you hold large collections, have a think about where they might end up.
There's a good chance that your legatees won't have time or much interest to worry about your library papers or art unless it is super valuable. Spare a thought for how or when you might ensure the most sustainable solution.
But for now, there's that auction looming and our new life in Melbourne beckons.
This relocation I hope will enhance opportunities for consultative work on Australian and South East Asian photographs. This includes collection valuations, assisting with cultural gift assessments, advice of identifying works, advice to institutions receiving gifts or purchasing works and a range of other association matters.
I do enjoy these consultative and research projects.
I also hope to do volunteer work in the wonderful visual resources centre at Melbourne University as well as personal research projects put on the back burner while library and art dispersal has been happening over the past 15 years.
Till then – Arriverderci.
---
Back to Parting with Your Art
or back to my main blog page — click here