Biography
RUTH HOLLICK
1833-1977
Ruth Hollick was born near Melbourne and studied art at the National Gallery Art School in Melbourne from 1902 - 06, where she formed life-long friendships with Dora Wilson, a painter, and through her, Pegg Clarke, a photographer. Hollick first practised photography around 1908 - 09, touring the country mostly taking portraits. She worked from the family home in Moonee Ponds and was accompanied by Dorothy Izard, who printed the orders.
In 1918 Hollick and Izard took over Minna Moore's old studio in Collins Street. Melbourne, and were sufficiently successful to take further space for the studio and reception area in an adjoining building.
From 1920 Hollick also exhibited her work in pictorial salons and was a regular exhibitor in the London Salon and Amateur Photographer annual shows.
In 1928 a one-woman show of her work was held at the Collins Street studio. Hollick's work covering child and society portraits, fashion and architectural illustrations was frequently used in The Home between 1920 - 28 as a Melbourne counterpart to Cazneaux's assignments.
In the early 1930s Hollick closed the city studio and once again operated from Moonee Ponds, mostly doing child studies.
Hollick and Izard travelled overseas for the first time in 1950 and retired to live in Heidelberg on their return.
Ruth Hollick was best known for her studies of children, for which she had a real interest and liked to use natural light where possible and to retain an air of spontaneity.
above text based on Gaël Newton's Silver & Grey
---
RUTH HOLLICK
1833-1977
text based on Gaël Newton's Shades of Light
The new Australian professional photographers in the pre-WWI years included a number of women, reflecting the greater independence of women, electoral gains through the suffrage issue and the change in social structures whereby fewer women expected to be kept at home until marriage. Alice Mills (1870—1929) trained as a colourist in the Johnstone O'Shaunessy studio where she met her future husband, the painter Tom Humphrey (1858—1922), then manager of the studio.

They started their own business in 1900. This later operated under her name only, probably from 1902 on when illness affected Thomas' work. Mills made many portraits of artists, including Tom Roberts, and one of her husband and daughter Mary.

Judith Fletcher (w. 1905—1930) also seems to have had connections with art circles, making a number of por-traits of Arthur Streeton. Fletcher began as an amateur and turned professional in 1908.

The New Zealand born sisters, May (1881—1931) and Mina (1882—1967) Moore had a studio in New Zealand before May set up a studio in Sydney at the Bulletin Building and Mina in Melbourne in the Auditorium Buildings. The sisters relied on a formula known as Rembrandt lighting which left much of the picture in rich dark brown tones and picked out the main profile or features with a pencil of light from one side.

Their work was often stamped with both names, but it was possibly Mina in Melbourne who made the extraordinary portrait of Shirley Huxley with her hair flowing, one of the classics of Australian photography. Its inspired and unusual composition sidestepped the formulas of muse or vamp into which much glamour portraiture polarised in these years.

Many portrait studios worked in similar styles of lighting and printing as used by the Moore sisters, although few did as much as they did with the formula. Rudolph Buchner, about whom very little is known, worked in Sydney and Melbourne around 1913—1930. He made a striking portrait of Mary Gilmore in 1913 and one of artist Elioth Gruner framed in a doorway in 1925.

Mina Moore's studio was taken over by Ruth Hollick (1882—1977) who had trained at the National Gallery Art School in Melbourne in 1902—1903 and like May Moore, who had originally studied art at Elam Art School in Auckland, was attracted to the artistic, literary and theatrical circles of Melbourne. These circles were most likely more receptive to women as professionals.

Ruth Hollick retained friendships with students from the National Gallery School: painter, Dora L. Wilson (1883—1946), and photographer, Pegg Clarke (c.1890—1956), who exhibited in salons in addition to running a studio in Melbourne. Dorothy Izard became Hollick's partner around 1918.

Hollick had a special talent with child photography, still a taxing subject in the 1920s despite technological advances. Her work filled the illustrated magazines of the day including Sydney Ure Smith's The Home, founded in 1920.

In child and social portraiture Hollick was the Melbourne counterpart to Harold Cazneaux in Sydney who had an appointment as special photographer to The Home. Hollick's studies were less stylised than many of Cazneaux's. An ingenious portrait of the young and seemingly affluent Master Quentin Cain of around 1930, equalled the novel compositions which Cazneaux favoured and left a strong sense of the subject.

In the I930s Hollick retired from the city studio and worked from home.
---
Seeing the light

From State Library of Victoria News No. 27, November 2004 - February 2005, Olga Tsara Librarian, Pictures Collection

Recently the Pictures Collection was fortunate to receive a collection of 648 negatives and associated studio paperwork by portrait photographer
Ruth Hollick (1883–1977). The collection came from the National Gallery of Australia and joins the Library's existing holdings of over 500 works by Ruth Hollick, which were donated to the Library in 1993 by Lucy Crosbie Morrison, Hollick's niece and studio assistant.

Ruth Hollick is noted for her portraits of children and of Melbourne society's elite in the 1910s to 1930s. She studied art at the National Gallery School in Melbourne, and used her training and artistic eye to develop an intimate and engaging style in her photographic portraiture.

Described as a pictorialist by art historians, she would often use only natural available light in her portraits to create soft, atmospheric scenes. She advertised herself as an 'art photographer' and exhibited widely in Australian and international photographic exhibitions.

While at art school, Hollick had established close friendships with Dorothy Izard, who later became her professional partner; the painter Dora Wilson; and the photographer Pegg Clarke. She took over the well-known photography studio of Mina and May Moore in 1918, where her career flourished, as did her social life.

The fashionable studio on Collins Street was the location for a number of parties for Hollick's wide circle of friends from the art world.

Not professionally trained as a photographer, her intuitive style evidently served her well, as she became one of Melbourne's leading photographers in the 1920s. The onset of the Great Depression did not affect her client list, but it meant that she had to relocate her studio from Collins Street, Melbourne, to her home in Moonee Ponds, where she worked until the 1950s, photographing a who's who of Melbourne's privileged class and their children.

Nellie Melba commissioned her, as did Keith and Elisabeth Murdoch. When the stylish magazine The Home began publication in 1920 in Sydney, Hollick was appointed by the publisher to provide the Melbourne content (Harold Cazneaux was responsible for the Sydney material).

An international-style magazine in the mould of Vogue, The Home contained information and advertisements about all things sophisticated and modern. Her pictorialist portraits of debutantes, society weddings and children, dominated the early issues, and among the portraits published, there survive examples of the earliest known fashion photographs in Australia.

The NGA believed that the Hollick archive of negatives was not well served by its location in Canberra, and while of aesthetic value and quality, it would nonetheless be of greater value in Victoria, and in a library, where social historians and descendants of the subjects of the portraits could more easily access the collection.

Negotiations between the State Library of Victoria and the NGA for the transfer of the archive began in 1996, and the happy finale was the delivery of the material to the Picture Collection in April this year.

The collection is currently in the process of being accessioned, and will soon be catalogued and digitised on the online image database. The richness
of the collection will then be available not only to Victorians, but the whole world through the Internet.

We are grateful to Gael Newton, Senior Curator of Photography, NGA, and to her staff, whose rigorous and scholarly research has meant that
Ruth Hollick's important place in Australia's history of photography can be appreciated by all.

Olga Tsara
Librarian, Pictures Collection


References
Barbara Hall and Jenni Mather, Australian Women Photographers 1840-1960, Richmond (Vic.), 1986, pp. 64–66
Daniel Palmer and Kate Rhodes, "High Society to High Concept: moments of Australian Fashion Photography", Photofile, 71: Winter
2004, pp. 34–41

Gael Newton and Karen Jacubec, "Ruth Hollick and Portrait Photography Between the Wars", Australian Antique Collector, No 54, July 1998, pp.
168–170

Illustrations:
Left: Group of young women posed in a tableau, possibly of 'Spring', c. 1925-35
Right: Bust of a woman, with short bob hairstyle and wearing scarf, c.1920-30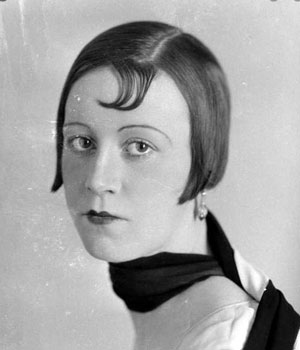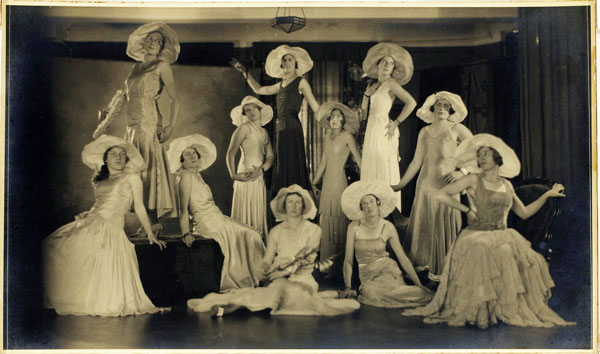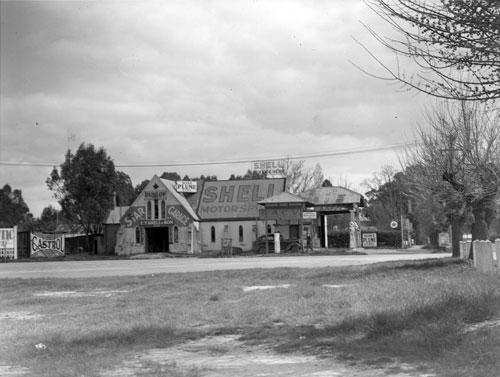 Australian Pictorial Photography, Gael Newton, 1979

Silver & Grey:Fifty years of Australian photography 1900 - 1950, Gael Newton 1980

State Library of Victoria catalogues: - Picture Catalogue (lots of Ruth's photos)

Shades of Light: Photography and Australia 1839-1988